Publicado por wasa en 7:19
Jose Mourinho Is Right To Defend Real Madrid - Florentino Perez
Club president backs his Portuguese coach after criticising the fixture planners.
Real Madrid club president Florentino Perez has advocated coach Jose Mourinho's comments in light of his outburst at the fixture planners.
The Portuguese tactician was unhappy that title rivals Barcelona were given five days' rest after a Champions League game while Los Blancos will only have four next weekend when they take on Atletico Madrid after Tuesday's clash with Lyon.
Mourinho's critisicm has now found the backing of his president.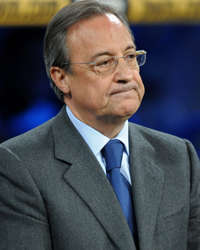 ''Real Madrid defend what they think is unfair or irregular and Jose Mourinho is doing exactly that,'' AS quoted Perez as saying during a ceremony to honour the club's long-standing socios.
''It is honourable to recognise the merits and achievements of our riavls, but we must also acknowledge what is unfair and denounce such irregularities, whether it's within or outside the club,'' Perez added vehemently.
The 'Casa Blanca' supremo then urged everyone at the club to replicate their title as the 'Best Club of the 20th Century' in the new era.
"We must seek victory no matter how difficult. We must try to be the best team in the 21st century not only in sports but in our infrastructure, our image, and our projections."
0 comentarios: