Publicado por wasa en 20:49
Inter striker David Suazo has revealed he intends to not sign a contract extension with the Nerazzurri and join Portuguese side Benfica.

The Honduras international's contract with the Beneamata is set to expire at the end of the season, but he has no intention of staying at the club.

The 31-year-old says he wants to return to the Eagles as he had fond memories of time in Portugal.

"I will not be renewing my contact with Inter," the striker told Honduran newspaper El Heraldo. "I don't even think Inter will contact me over it [renewing the contract].

"I intend to return to Benfica where I was welcomed with open arms. I am indebted to them."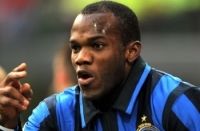 0 comentarios: